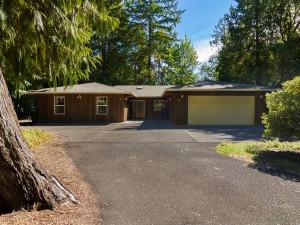 Home ownership is at it's lowest level since 1995 thus, the rental market has experienced record low vacancy levels, in fact Portland, OR is 5th in the Nation with a vacancy rate of just 2.2%. In some cases, would be renters have started doing what is very common place in most other parts of the world, move in with family i.e., Multi-Generational living.
From a Broker's prospective it's always been a dual edged sword, either you couldn't find a home that had separate living arrangements on those rare occasions when new buyers inquired  or you spent countless hours pondering the challenges in listing & selling such a home as you realized it was a limited audience. Perhaps potential buyers would have been more open to the idea of purchasing a property that had dual living arrangement possibilities if they felt they weren't paying for something they might never use, such as a 2nd kitchen or laundry area…after all, getting the most bang for your buck is a universal goal.
I started thinking back to all the houses I've been inside that could have had a wide variety of uses but, decided to go in one direction or another with no turning back. For those who may be considering creating such a living arrangement in their own home or possibly purchasing one already done, I thought I would share some thoughtful design tips from an upcoming listing of mine at 476 SE 26th Ave Hillsboro, OR.  Credit for any helpful tips should really go to the Seller/Owner for keeping things in perspective in regards to just how far to go in weighing needs to make life easier versus future resale. It certainly didn't hurt matters that the builder ( a life long friend of the Seller & client of mine) had a few thoughts of his own, in addition to being a master craftsman….that all happened in 1996, long before I came into the picture.
There are certain considerations that hold true whether building/remodeling for a special purpose or to create the most value for future resale. Typically, a one-level property sells for anywhere from 5-15% more than a comparable 2-story house with the same square footage. This particular house is a day ranch thus it does have 2 levels, although it was designed & built to conform with the naturally sloped lot it sits on. The lower level is above grade and the rear patio is accessible from any of the (3) 8′ sliding glass doors, certainly not a basement feel. The exterior excavation utilized at the time allowed not only for proper drainage, hard scape & deck walkways around but, also took into account the possibility of someday eliminating steps in order to create gradual grade paths that would be ADA compliant. The front entrance has a 'no step' entry with sure footed hard scape leading up to the house, suitable for all weather conditions. Wide hallways & doors not only allow for easier movement within the house but, the open feel does not go unrecognized by those who don't have any mobility issues thus, another future resale plus. Flooring materials that are attractive but, also serve in being durable & slip resistant are also considerations that can't be overlooked…the use of high quality tile & tight pile carpet throughout lend itself well to both beauty & practicality.  Bathroom shower design in recent years has seen a trend towards walk-in's, in many cases with no threshold defining the showers edge…the design of the showers herein was most likely done with practicality in mind but, there certainly was  thoughtful attention to detail for future resale. The kitchen, or in this case kitchens, is the central point to any house and moving about them as been made easier with an open layout with wider than usual entry/exit points. With the potential for 7 bedrooms, although listed as 5, the ease for adding/subtracting rooms or changing their purpose has been made far easier by a well thought out design. The foot print of the house incorporates strategic placement of utilities, including electrical outlets, heating & cooling vents & plumbing. Planning for future improvements should always be a consideration for your remodel or new construction project, as it was in this case.