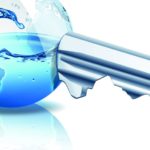 "Water, Water Everywhere, and all the boards did shrink. Water, Water, everywhere, nor any drop to drink" from 'The Rime of the Ancient Mariner' by 18th Century Poet Samual Taylor Coleridge. Although the Ancient Mariners of the 18th Century clearly understood that much of the earth's surface was covered by water they quickly learned that a supply of life-sustaining freshwater was a scarce commodity. 70% of the earth's surface is covered by water but, a mere 2.5% is freshwater with less than 1% easily accessible. The World's population currently uses 30% of the available freshwater supply and according to the United Nations, water usage could run as high as 70% by 2050. It's further said that by 2025, 1.8 billion people worldwide will live in areas plagued by water scarcity.
When demand for Real Estate exceeds available inventory it can be managed by building new homes. When demand for freshwater exceeds its capacity the solutions may not be as simple or cost-effective. If pressed to make a life-or-death decision, many would be quick to prioritize the need for life-sustaining water over the shelter of a home. What Real Estate & water flowing through it share in common is both are considered 'Real Property. Often times the 'Rights' that go with a parcel of land, or property that includes a home, are taken for granted and the potential value remains just that, potential. 
Water Rights that can provide fresh Springwater for consumption, as well as the ability to irrigate crops, can rival or exceed the value of the adjoining land in many cases. In Oregon, a water Right is authorized by the State Water Resources Department (OWRD). Requirements for issuance of a 'Water Right' before using surface water have been in place since 1909 and groundwater permits were first issued in 1955. The doctrine of "Prior Appropriation" is a system wherein it's basically one of first come, first served. In times of shortage, the "Senior" water right holder is entitled to take all the water needed before the next "Junior" water right holder is served. With only a few exceptions, Oregon law provides that all water is publicly owned. Water Rights with a "Priority Date" that predates any "Junior" water rights holders can add additional value under our "Prior Appropriation" doctrine. 
Real Estate has remained an excellent long-term investment, however, it's not immune to cyclical changes in the market. Hedging one's investment by utilizing valuable resources such as water can be just the right solution. Water and its importance to our survival have been referred to as a 'Human Right' thus, it will always be in demand. If you've wondered what one of the few prognosticators who saw the housing collapse of 2008 coming is doing today, after making $2,690,000,000 for his clients by 'shorting' the housing market, Dr. Michael Burry is focusing all of his tradings on one commodity: Water. 
Bob Zawaski G.R.I.
Oregon Licensed Principal Broker
Investors Trust Realty